Is La Partage available on live roulette?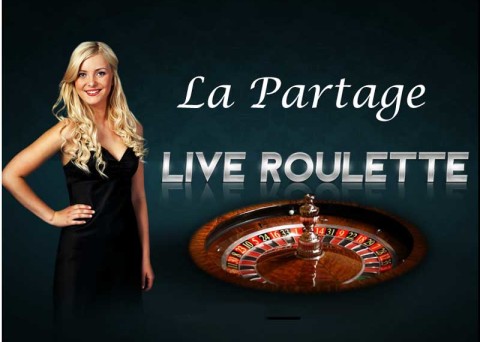 La Partage is available on live Roulette, but you have to hunt it out! Only a few of the live casino software providers have it, thankfully it's the bigger named brands, perhaps they recognise that's what high rollers and advantage players are looking for.  Who knows!.
Anyway Evolution, Playtech and NetEnt Website all provide the facility but it's tucked away.
For NetEnt lovers you'll find that it's optional for live casinos to take it, so you'll find that some don't have it. You can normally tell straight away as there is a little check box on the roulette lobby that you'll need to tick if you want to play with that functionality.  I've noticed that when you do, the minimum stake increases.
For Evolution casinos you'll find it on their French Roulette tables. It's not advertised but it's there, just check out the game rules.
For Playtech Casinos is also on the French Roulette tables and it's also not advertised. I can sort of see why as it reduced the house edge slightly and I can't see the casinos actively trying to do that unless of course they can make more from it.
So What is La Partage?
If you've got this far I've sort of assumed that you know, but in case you don't it quite straight forward really.
La Partage is when half of your stake is returned to you if the ball lands in Zero. You have to have placed an even money bet for this to pay, so Red / Black, Odd / Even will do it. The significance of this is that the house edge for Roulette is reduced from 2.7% to 1.3% for even money bets. Which makes this a better gamble for the player.
Where to Find La Partage
I've already explained which software companies provide the facility, so if you're looking for one live casino of each provider these are my recommendations.

Casino
Games &
Stakes
Dedicated
Tables
Free Play
Software
Country
Play
French Roulette Gold > 2 - 20k
*French Roulette > 0.10 - 50
Evolution
*Playtech

[geoip2 exclude_region="William Hill," ]

[/geoip2]

[geoip2 region="William Hill," ][/geoip2]
Play
French Roulette > 0.25 - 25
Playtech

[geoip2 exclude_region="bet365," ]

[/geoip2]

[geoip2 region="bet365," ][/geoip2]
Play
French Roulette Gold > 2 - 50k
*Auto Roulette > 2 - 20k
*Roulette > 2 - 75k
Evolution
*NetEnt

[geoip2 exclude_region="redbet," ]

[/geoip2]

[geoip2 region="redbet," ][/geoip2]
Play