What live casinos have Blackjack Side Bets?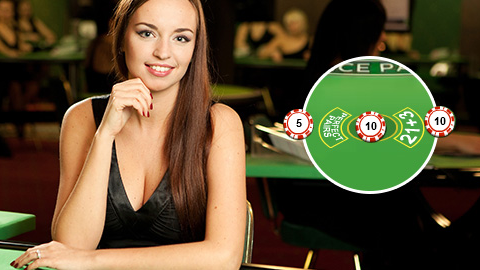 Live Blackjack has followed the trend started by Land Based Casinos for providing players with bets that they can play alongside their main hand in Blackjack.
The ultimate purpose from the casinos point of view is to keep players at the table longer, provide them with an added a little extra spice to the game and make more money!
So if that's the case why should you play the Blackjack side bets?
If you're an advantage player, playing Blackjack purely to make money the answer is definitely NO. The house edge on all the side bets is too high for long term gain by the player.
However if you're like me have a bankroll and want the thrill of hitting the higher payout hands then they are an excellent way to make money in the short term, although be advised your stake money can go more quickly.
Blackjack Side Bets Casinos
In the table below you'll find which casinos have blackjack side bets, the stakes on offer and the number of decks played with.  Note: NeEnt Software does not feature as they do not have side bets.
Casino
No of
Decks
Bet Behind
21-3 (Poker)
Perfect Pair
Honey Bonus
Lucky 7
Software
Play

5 - 25,000
8
Evolution - BV Grand
Play

0.50 - 500
6
Visionary Igaming
Play

0.50 - 500
6
Visionary Igaming
Play

10 - 500
8
Evolution
Play

5 - 5,000
8
Evolution
Play

5 - 2,000
8
Evolution
Play

5 - 5000
8
Playtech
Play

25 - 300
8
Microgaming
Play

1 - 300
8
Playtech
Play

5 - 2,500
8
Evolution
Play

£5 - £5,000
8
Evolution
Play

3 - 5,000
8
Evolution
Play

3 - 10,000
8
Evolution
Play

2.50 - 100
8
Playtech
Play

1- 2,000
6
BetConstruct
Play
So what are the Blackjack Side Bets?
Bet Behind
This is one of the most common blackjack side bets, and you'll find it in two forms at the live casinos.  In land based blackjack games bet behind is used so you can place a bet on another player's hand, i.e you bet behind him.
You'd do this if there were no seats at the table or if the player was "Hot" and you wanted some action on his hand. The player controls the playing of the hand and you have the option to mirror his play when he splits or doubles his hands.  If side bets are in play you can also place bets on these.
At an online Live Casino the options available for Bet Behind are different depending on which software provider is being used.
If you're playing at a Microgaming Live Casino you can only Bet Behind if you are not seated at the table. It's been designed that way so that players waiting to get a seat can play.
If you're playing at an Evolution Casino you can bet behind the player when you're both seated and not seated. You can choose whether to split or double down with the player and there is an indicator of which players are "hot".  This version of bet behind is the closest to the land based version, but you won't be able to bet behind on the side bets.
21-3 or Poker Side Bet
This side bet involves the dealer's up card and your first two cards dealt. You bet on whether the three cards will form a poker based hand, such as a Flush, 3 of a kind or a straight. There is normally a minimum stake for this and payouts can be quite generous. Suited trips pays 100:1, Straight Flush pays 40:1, 3 of a Kind pays 30:1, a Straight pays 10:1 and the most common hand, a Flush pays 5:1.
Perfect Pairs
Another popular side bet is a bet made on whether the dealer or players hand will be a pair. Most Casino only offer it on the players hands, but some like Playtech Casinos offer it on the Bankers hand as well. The bet pays 25:1 for a Perfect Pair (Same suit), 12:1 for a coloured pair and 6:1 for a mixed pair.
Honey Bonus
This is a the same as the 21-3 Poker bet but with the addition of a payout for a suited Blackjack.  The general payouts for this side bet are different with 3 of a kind only paying 25:1, but a flush pays 10:1 and a straight 15:1. You'll find this side bet at BetConstruct Live Casinos.
Lucky 7's
This side bet involves a bet on the number of 7's dealt to your hand and the payout depends on how many and the mix of suits. One 7 pays 3:1, a mixed pair 25:1, a suited pair 50:1, three 7's pays 100:1 and three suited 7's pays 500:1. This side bet can be found at BetConstruct Live Casinos.